Tell Your Taxes Where to Go — And Feel Good About It
Arizona has selected A New Leaf to be part of the Charitable Tax Credit.  And that means you can make a big difference in our Valley.   It's simple:  You choose to pay the state or donate to a great cause.

All you have to do is donate to A New Leaf today and then claim the donation on your taxes. You will receive a dollar-for-dollar tax credit for up to $400 if you are a single filer or up to $800 if you are a couple. In other words, if you donate $200 to A New Leaf, you'll reduce your state taxes by $200. If you donate $50 to A New Leaf, you'll reduce your state taxes by $50. See the pattern? This is a great way to reduce your taxes and be part of the solution to end homelessness.
Impact You Can Make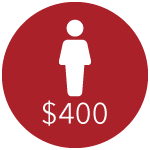 Donate $400
An individual earning at least $22,100 a year can donate $400 to A New Leaf and reduce his or her state taxes by $400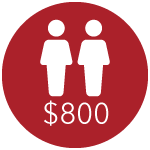 Donate $800
A married couple earning at least $50,900 a year can donate $800 to A New Leaf and reduce their state taxes by $800
Ways Your Gift Can Change Lives

A New Leaf is able to provide these services through our shelter programs: Autumn House Domestic Violence Shelter, Faith House Women's Center, La Mesita Family Homeless Shelter, East Valley Men's Center and East Valley Women's Shelter.
It Only Takes 3 Steps

Frequently Asked Questions
Can I claim this tax credit and still donate to the school and foster care tax credit programs?

YES! The programs are separate tax credits. The state of Arizona allows you to take advantage of all three credits.

Do I have to donate exactly $400 for singles or $800 for married couples?

Amounts lower than $400 and $800 also qualify, so a $100 gift will lower your state taxes by $100.

Must I itemize my taxes to take the credit?

No, you do not need to itemize your taxes.

Can I break up my donation into monthly amounts?

Yes, you can select the monthly payment option on our online donation page or you can call our Philanthropy Office at 480-464-4648 to make arrangements.
For More Information
If you have questions, need more information or wish to take a tour of A New Leaf's programs, please call Joe Dulin at 480-464-4648 (office) or 480-323-0474 (after hours) or you may email jdulin@turnanewleaf.org.
A New Leaf is a qualified 501(c)(3) nonprofit organization. Please consult your tax advisor for specific questions related to your taxes.