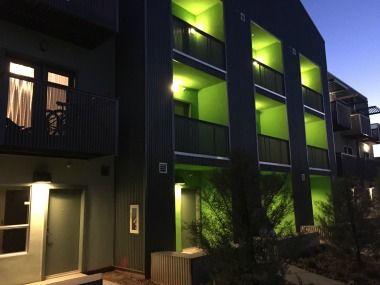 A New Leaf's rebuilt La Mesita Family Homeless Shelter welcomed its first residents the weekend of March 7-8. Furniture, boxes, and personal belongings were all moved into the new residence -- a safe, peaceful home for those in need. The shelter is the culmination of a months-long construction project to rebuild the La Mesita shelter in downtown Mesa.
Facing night after night without sleep is unimaginably difficult, and lack of housing can drive a person to despair. Yet every single day, thousands of families spend the night in parks, or along canal banks or in their cars.
The new shelter will offer a secure home for families and children facing homelessness. The La Mesita Family Homeless Shelter takes the concept of a shelter and increases impact through vital resources that ensure long-term success. Resources such as:
• Temporary shelter and basic needs
• Affordable housing support
• Job assistance
• Financial planning and budgeting help
• Case management and counseling services
• Headstart and after-school programs
• Campus events and educational classes
• Community resource network
The grand opening for the new shelter is April 15, 2015. Please call 480-464-4648 for more information.