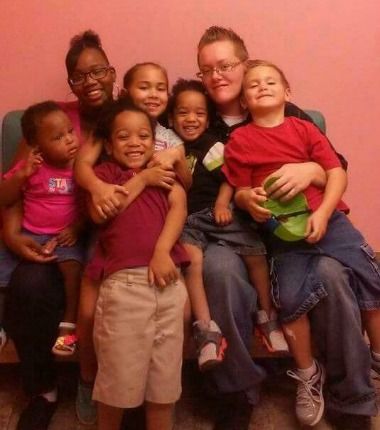 Kate and Khalifa are proud parents of five children, ages 2 through eight. The children laugh, sing songs, jump up and down and bustle with an energy that only young kids bring to a home. "We love our kids more than anything in this world," says Kate. "Family is our life."
Kate's eyes get watery as she talks about how precious their home is to them. They now live at La Mesita Apartments, A New Leaf's affordable supportive housing complex that provides a safe and stable home to low income families who need a hand-up.
Once homeless, Kate and Khalifa and their children were at a crossroads in their life. Kate was subsisting on $168 in child support, and Khalifa had no job or financial support from the children's father. Both had experienced personal trauma in their lifetime, from domestic violence to homelessness. They each slept at friend's houses and temporary shelters.
"It feels like once you are down, the sky keeps falling," says Khalifa. "You think that life is meant to be suffered and you get used to pain and struggle. And when it affects your kids it's even worse. You feel like you can't recover."
But then the sky stopped falling, and miracles happened. They found transitional housing at a local agency, which was where they met. "Of course, what drew us together was our children and we both wanted a family. We loved each other and our kids formed a special bond with each other, and we knew it was destiny."
Then they discovered the La Mesita Apartments, which had an opening for the newly formed family. "I don't know where we would be without A New Leaf," says Kate. "They took us in their arms, and gave us a real home." Kate and Khalifa were offered an appropriate rent based on their income, and their proven adherence to programs at other shelters and references proved successful to being approved for housing.
"Not only did A New Leaf provide us a home, Erika (A New Leaf staff) helped me get a job at Community Bridges as an outreach counselor," says Kate. "I love my job, I love my home, and my family."
Khalifa equally expresses her appreciation for their new home. "We have such a large family, we were worried about finding a space large enough for the five kids. But La Mesita had the space, plus all of the other things like the after-school program, playground, computer lab all on campus."
Erika Evans, staff services specialist, says "This family brightens our lives at La Mesita. All of the residents love them, and they are committed to helping out and supporting the other residents. The children are a joy here on campus."
With a family of five kids, Kate and Khalifa say their focus now is to create a stable, safe home for the rest of their children's lives and to be good parents. "At the end of the day, it's about your kids, and how you can love them."
La Mesita Apartments is an essential community resource. You can help families and change lives by donating to A New Leaf. Make a gift today so that others can pursue their journey to independence.