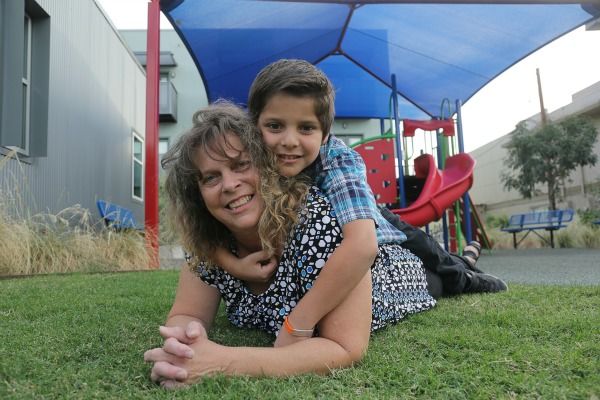 Do you believe in miracles?
Erin did. Until a series of unforeseeable events stole her hope and left her reeling.
She had believed she was done raising children, until her grandson Gabriel turned three months old. Too quickly, her role as grandmother turned into provider and, eventually, sole care giver for a child with type 1 diabetes. Her world narrowed and revolved around keeping Gabriel healthy, safe and loved.
Caring for a healthy young child can be daunting enough. Caring for a sick one overwhelmed Erin. She obsessed about Gabriel's condition.
"I stopped sleeping, worried sick he would slip into a coma from a low blood sugar level. I would get out of my bed 10 times a night when Gabriel was first diagnosed. I knew something bad could happen, so I was always on guard."
The stress took its toll and Erin began struggling to finish work projects on time. As a business analyst, she was used to focusing on the tasks at hand, but her grandson's plight was a constant distraction. When she lost her job, she lost her means of supporting Gabriel. She searched, but couldn't find new work.
"We were evicted from our home," she says softly. "I had a pit in my stomach and felt numb from depression. Caring for Gabriel was all I could manage. I wasn't eating, and everything moved in slow motion. I felt hopeless."
She and Gabriel slept at friends' houses for a while, and then on the floor of a relative's home. Erin borrowed money from a good friend to buy Gabriel's medicine.
"Giving Gabriel as normal a life as possible was my priority," Erin remembers. "I prayed for a miracle to help us find a home."
A friend suggested Erin call A New Leaf for help. She was accepted into the La Mesita Family Homeless Shelter. It was her miracle.
"I was so happy – and immensely relieved. It felt like home from the very start. The residents and staff welcomed Gabriel like he was their own."
The shelter staff is helping Erin find resources in the community and make friends among the families staying there.
Erin's hope for the future has been reborn.
"My grandson's health has improved since we arrived at La Mesita. The staff is focused on our well-being and success. I can finally sleep at night. I have peace of mind."
Each year, A New Leaf shelters provide a safe home for thousands of our community members like Erin and Gabriel. Too often, a single, unexpected, life altering event thrusts a family into homelessness. Too often, it feels like only a miracle can bring freedom from homelessness, domestic violence and personal crisis.
Will you please consider making your most generous gift to A New Leaf today? Your heartfelt generosity will create miracles for families like Erin's in desperate need of hope and life's most basic needs.
To make your heartfelt gift, please click on the donate button on this website. Your help is needed!