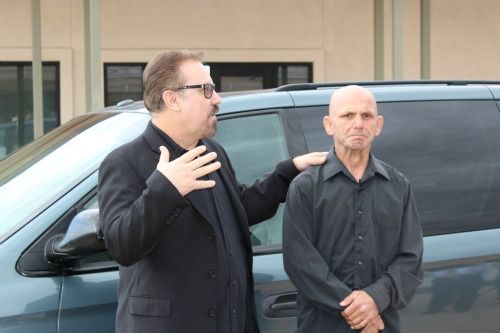 A Valley veteran got a holiday surprise after a string of bad luck and a battle with addiction. He's turned his life around and won a car for his efforts.
"Oh my goodness. Yeah! Alrighty!" said Douglas Jackson, starting his new car for the first time. The sound of the engine turning over was the sound of a page turning in Jackson's life. "My children are just going to be so happy. They've been having to go around on buses and riding bikes and everything. It's going to give me a whole new life with my children," he said.
The U.S. Marine veteran served in the first Gulf War. He helped sweep mine fields so troops with heavy equipment could make it safely from the bases in Kuwait to the battlefields in Iraq. But years after the battles faded from the headlines, the things Jackson experienced remained unforgettable. Post-traumatic stress disorder and alcoholism sent him into a spiral that cost him many things, including a place to live and a car to drive.
"I went through a divorce. I was struggling with alcohol. I found out my wife was having an affair," Jackson said. "I just left with everything. I just had to get out of there."
He went to A New Leaf's East Valley Men's Center, a facility that specializes in giving men in distress a place to stay while they get back on their feet. For Jackson, it was a way to start getting his life back on track for his four kids - three of them teens still living at home. "Just because of my selfishness they've gone through a lot. I put myself and my alcoholism first," he said.
At 69 days sober, employed and helping with a youth wrestling program, Jackson wrote about his experiences in an essay contest for veterans held at the East Valley Men's Center with help from the Mesa Chamber of Commerce. The prize was a van donated by Valley Express Towing. "I was just straight-out honest," Jackson said.
Knowing how critical transportation is, the judges for that essay contest saw Jackson's serious ambition to get back on the road to success and handed him the keys to that journey. "I feel great, I feel honored," Jackson said.
Jackson said the best part of this whole saga will be when he finally gets to pick his kids up from school. "They're not going to believe me. They're going to say, 'Whose is that?' said Jackson, breaking into tears. "And I get to tell them it's theirs."