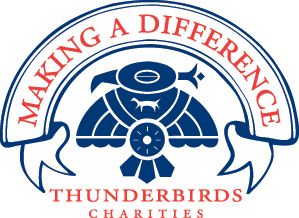 February is an exciting time in the Valley. It's the time of the Waste Management Phoenix Open.
One of A New Leaf's most beloved supporters, Thunderbirds Charities, is well respected for its dedication to Valley nonprofits. But did you know that The Thunderbirds are also responsible for this one-of-a-kind golfing event?
That's right. The Thunderbirds manage every aspect of the Open and have made it the largest professional golf tournament on the PGA Tour, with attendance well over 550,000 fans and reaching millions through multi media. It is called "The Greatest Show on Grass." The next Open is scheduled for Feb. 1-7, 2016.
Danny Calihan, President and "Chief Thunderbird" leads the Thunderbirds organization, and he says, "The Thunderbirds are dedicated to helping the less fortunate, and the Waste Management Phoenix Open is our door to improving people's lives." The Open is one of golf's top revenue-generating tournaments, and these precious funds are then given back to the community through the Thunderbirds Charities.
In operation since 1937, The Thunderbirds have grown into a 55-active member organization with thousands of volunteers. All Thunderbird activities and events are the prime responsibility of these Active Thunderbirds and are under the "watchful eye" of the Big Chief and Thunderbird Council.
What is the reason for The Thunderbirds success? "Without a doubt, it's because of the support of the community and the relationships built every day," said Calihan. "The thousands of volunteers, the business community, the fans – all come together to create a unique event." And he adds, "We are always striving to improve every year."
Thunderbirds Charities supports more than 300 organizations across the Valley, including schools, and big and small nonprofits. "We help wherever we can," said Calihan.
Thunderbirds Charities has provided life-saving funds to A New Leaf. "A New Leaf is a wonderful organization, proven by its longevity, compassionate services and good reputation," said Calihan.
"We are so grateful to Thunderbirds Charities and The Thunderbirds," said A New Leaf's CEO Michael Hughes. "This is an important relationship that makes a difference in the lives of thousands of people every year.
To learn more about how you can join Thunderbirds Charities in A New Leaf's mission to end homelessness and domestic violence, please call 480-464-4648. You can also "lay a dime on the line for homelessness" by making a pledge in the Birdies for Charity drive at the Waste Management Phoenix Open, which starts Feb. 4, 2016. Pledge online at BirdiesforCharityAZ.com.