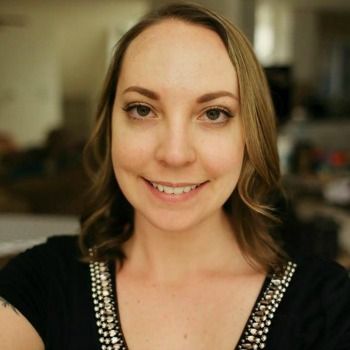 This month is National Counseling Awareness Month, and A New Leaf is very proud of the life-changing work of our talented counseling staff. They invest deeply in the lives of children and teenagers who are served at our Counseling Centers and After School Programs.
We would like to introduce you to one of our helpful staff members, Amanda Walker. Amanda serves as a Clinician to help children and teens who face emotional and mental challenges. Amanda always has a wide smile and a warm embrace for her clients. We are grateful for Amanda, and for all of our clinicians and staff who improve the lives of so many people. Enjoy the following Q & A with Amanda as we feature her in this week's blog.
Question: What interested you in the field of counseling? Why did you choose the profession?
Answer: "During my second year of attending Mesa Community College, I took a Psych 101 course. I can say that one class completely changed the course of my college career. As we explored our own stories and experiences throughout the class, I was able to understand just how life-changing that can be. I knew after that I wanted to learn more. In the end I chose counseling because I have an intense desire to help others, especially children. After learning about the huge need for mental health services in Arizona, it just seemed to fit with my life values."
Question: Are you a native of Arizona? Or did you move here from somewhere else?
Answer: "I was born in Flagstaff, and grew up in a small town north of Prescott called Chino Valley. In high school I was president of our local FFA (Future Farmers of America) chapter, and was very involved in the community through volunteering all throughout high school. I moved to Phoenix 11 years ago to attend college, originally for Fashion Design. Moving to the city was a huge change, but a welcome one."
Question: Have you experienced any success stories working with young people at A New Leaf?
Answer: "I see success very often in my clients and their families. It's absolutely what gets me through the tough days. Recently a teen was able to transition to adulthood very successfully after working through a year of therapy relating to her anxiety and depression. The success I see when families start working together, and changing their communication with one another is so great to witness each week! I had a family come in recently after not seeing them for 1 month, and their body language was completely different sitting in my office. I then came to find out that their relationship had greatly improved, and we were able to build on what had recently worked for them."
Question: Do you encounter any challenges in your role at A New Leaf?
Answer: "As with any career, or any agency, the challenges of working as a counselor occur every day. The greatest challenge is trying to work with a child or family that is resistant to change. Change is uncomfortable, even for me! I help my clients and families work through this by finding ways to join with the family, in a way that speaks to them, because no two families are exactly the same. This usually is done by listening and understanding their thoughts and feelings as they experience it, and looking for the strengths already built into the family."
Question: What inspires you about the children and teenagers who come to your office?
Answer: "I am most inspired when clients and family are able to be open and honest, and share their stories. Some may carry around this huge weight of their experiences each day, and that they choose to share it with me is beyond powerful."
Question: What are the warning signs of a child who is experiencing mental or emotional challenges?
Answer: "Warning signs for mental or emotional challenges is a noticeable decline in a child's functioning of day-to-day life. Examples include a decline in social-interactions at home or school, inability to complete homework, inability to have meaningful relationships, losing interest in once-loved hobbies, or other activities. As a child grows, there will be changes in all of these areas in different ways, but a caregiver can always trust their gut instinct if they feel something is 'just not right'."
Question: What advice can you give to parents whose children face these challenges?
Answer: "Helping your child can start with talking to their teachers, coaches, their school counselor, or any other adults they see each day to learn more. And listen to your child as well, because they know their experience better than anyone. I always tell the parents I work with that they are the greatest support available to their child. For very young children this is even more true. Doing things like having time set each day or week to spend together one on one, where they feel listened too and not judged can be so helpful. The teens I work with often say, "I just want them (parents) to understand." Know that at times your child may just need someone to listen to their thoughts and feelings, and do not need a parent to 'fix' it. And above all, know that it's OK to ask for help, and see a counselor with your child."
Question: Can you tell us about A New Leaf's services?
Answer: "There are so many other services A New Leaf offers all throughout the Phoenix area. I have personally worked as a Counselor, and at the After School Program here at A New Leaf. There is help for the homeless population including shelters, transitional housing and affordable supportive housing, domestic violence services and shelters, foster care services, and so much more!"
Question: Any last words of advice to young people as they learn to thrive and survive in the world?
Answer: "My hope for all youth growing up in the world today is to know this…
Keep a journal.
Find what makes you happy, and do that every day.
It's OK to ask for help.
Be kind to yourself.
You are not alone."