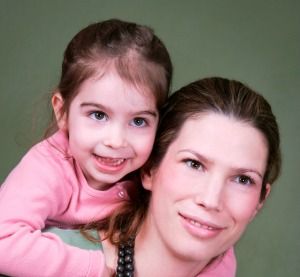 The grocery check-out line stretched haphazardly down the aisle, spilling anxious shoppers unevenly through rows of Tide detergent, cleaning supplies and air freshener. Pregnant with her fourth child, Danielle was a bundle of nerves as she waited in the long line. Her three young children were tired and overwhelmed by the sights and sounds of the grocery store. Five-year Jonathon was jumping in place while three-year old David pulled at his mommy's sleeve. "I wanna go home, mommy!" he exclaimed. Danielle took turns calming her crying one-year-old daughter Katelyn and eyeing the line ahead with rising panic.
After what seemed like an eternity of waiting, Danielle quickly paid for the groceries and hustled the children out of the store, struggling to carry the groceries in both arms while pulling the baby stroller. She spied the bus stop around the bend of the road and bit her tongue, all too aware that she had no car and would have to shepherd the children to the bus stop and keep them quiet while they all waited to board. How was she going to manage the bags of groceries, along with her stroller and three young children on the bus? She stared at a nearby car with a family loading groceries into their car and emotions of longing and sadness washed over her. She remembered her last visit to the store when a friendly shopper visited with her and offered her a ride to her home. Her eyes misted over as she felt appreciation for that kind Samaritan.
"Shopping was such a simple yet complicated thing," recalls Danielle. "The little things that people take for granted are sometimes the most difficult for others who are struggling to get by."
Raising three young children was very difficult for a single mom, especially with no child support from her ex-husband and no employment. Danielle had to resign her position from her previous employer because she needed child care after her sister had stopped baby-sitting her kids, and the daycare options were far beyond her budget. Unable to afford a car, she was trapped in a limbo of constant job searching and struggling to attend to daily errands with a meager income from her unemployment checks. To make matters worse, her family had recently been evicted from their apartment and were now staying at a walk-in homeless shelter in downtown Phoenix.
"I was at such a low point," Danielle says softly. "I felt the weight of the world on my shoulders. I cried myself to sleep every night and felt despair choking me until I couldn't breathe. It was so bleak and agonizing for me during that time."
But Danielle had to stay strong for her children. She loved them deeply with the same fierce strength of gravity pulling the tides to shore, eternal and unyielding. She would sacrifice anything for her kids – and her family clung together with a determination to find some solution to their struggles.
It was a few weeks into her stay at the shelter that Danielle found the miracle she had been looking for. A shelter staff person told her about A New Leaf and a life-saving program called Rapid Rehousing. She cried from relief when she heard what this unique program could offer her family.
The Rapid Rehousing Program is a valuable program of A New Leaf, helping Valley residents find permanent housing solutions in order to stabilize their often precarious situations. The program pays for rent and utilities for a period of time in order for program participants to find gainful employment and take steps to become self-sufficient. Participants must demonstrate the ability to manage rent obligations independently once financial assistance has ended.
The results of the program are compelling:
• 930 individuals have lived in safe housing due to the program
• 270 households have received referrals for community resources
• 1,145 bus and rail passes have been provided
• 4,740 case management hours have been provided to vulnerable families
The moment Danielle was accepted into A New Leaf's Rapid Rehousing program, she says she felt the air tingle with a lightness and a hope she never thought she would experience. "All those days of depression and worry seemed to wash from my heart as I thought about the future for my children," Danielle remembers tearfully. "I can say it was the moment that changed my life."
Through the Rapid Rehousing program, Danielle found a clean, safe apartment perfect for her and her young family. Then, like the heavens were celebrating with her, another miracle occurred. She was accepted into the Arizona Department of Economic Security Day Care program so that she could find a stable job with the assurance that her kids would receive care while she worked. That would mean she could reapply to her previous employer where she loved her coworkers and job.
Within a few weeks, she received a job offer from that same company – with a new title and pay increase. What a turn of events!
"The lesson of my story," says Danielle, "is that you have to want to change and be focused on your children. They inspired me and loved me no matter what, and that gave me the confidence to keep going. They're not going to remember that you forgot to give them a bath, but they will definitely remember a long hug or a goodnight kiss at bedtime."
"A New Leaf was so helpful to me in so many ways," says Danielle. "As I interacted with my case manager, I truly felt I was never judged. They were proud of every step of progress. I am so grateful and blessed to have found A New Leaf."
Danielle is happily employed now, saving for the money to purchase her own house. She remembers her struggles and tries to be that kind Samaritan to other single moms who may face difficult circumstances. You can help families like Danielle's by making a gift to A New Leaf today. Click the donate button above and transform a life.