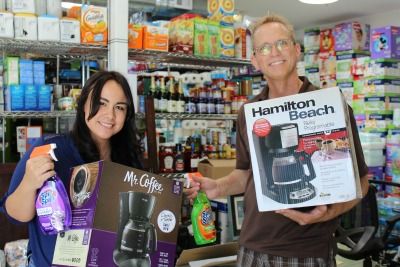 Every August, we wait with anticipation to see what Dr. Kevin Ross, from The Power Company will be dropping off at A New Leaf's Donation Center. With compassion in his heart, he explains the premise behind his "Christmas in July."
"I do it because it's the right thing to do. God has blessed me tremendously in my office and it only makes sense to give back what He's given to me. We've been giving to you for 22 years because we love what you stand for."
Dr. Ross' staff prepare for July with holiday magic through dazzling lights, music and decorations, creating an atmosphere that lifts the spirit of all who enter. New patients are asked to come in with a donation for A New Leaf instead of paying their $100 initial exam fee. Dr. Ross sends us a portion of each payment for those who elect not to donate.
Recruited by example and with an invitation from Dr. Ross, neighbors like Dr. Jamie Clouse and Dr. Nicole Ioli have caught the bug and become involved in this enchanting event. "They saw the vision," exclaims Dr. Ross. His staff, neighboring businesses and established patients enter into the excitement by promoting the event and adding to the treasury of gifts they bring to our shelter residents.
Dr. Ross reaffirms his belief with, "The greatest joy as a business owner is to see the excitement of A New Leaf and what my donations bring. No matter how small, it makes a difference. I believe that any business or individual who gives will be blessed in their lives."
It's a joy to see the spirit of giving grow through Dr. Ross' example. We are proud to partner with him and others in Helping Families…Changing Lives.