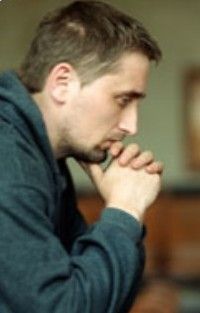 Only in his early twenties, Nick faced challenges more serious than most experience in a lifetime. But, despite how hard it was, Nick always kept these problems to himself. He had only been punished by his parents, ostracized by his friends, and expelled from his school because of his personal challenges. If no one had helped him his entire life, why would that change now?
Entering A New Leaf's East Valley Men's Center, Nick resolved to stay silent and abide by the rules. It was his first time in a shelter, and he did not want help.
But staff at the East Valley Men's Center were determined to get through to him. He followed the rules, he was punctual to all of his meetings, and he was a role model to the other men. He deserved to be helped. As trust built, Nick confided in his case manager that he dealt with serious depressive disorders and utilized drugs to self-medicate. Despite the efforts of his case manager, Nick wouldn't get help for these challenges, he just wanted to get better now. To compromise, Nick and his case manager set a personalized plan to ensure Nick would stay sober and find the help he needed.
After ninety days into his stay, Nick was sober and had begun to feel okay again. He was able to keep a clear head, had saved some money, and the stability had allowed him to stay focused on the goals he had set with his case manager. It was November, so Nick decided he would take this newfound strength and spend just a few days away from the shelter over the Thanksgiving holidays to try to mend relationships with his family.
Only days later, Nick relapsed. His first memories were days later, surrounded by fast food wrappers, broken bottles, and used needles. Nick felt ashamed and told himself he could never go back to the shelter. Again, Nick felt hopelessly alone.
But, Nick was never alone in his journey.
Upon hearing of what happened, staff at the East Valley Men's Center reached out to Nick and offered him a bed. Nick was astounded. Every time he had ever relapsed, people had simply given up on him. Within days, Nick was enrolled for detox and a mental health evaluation through A New Leaf's close partner, Community Bridges.
For the first time Nick was directly addressing his challenges with depression and substance abuse. He began counseling and medication through Community Bridges, reaching sobriety and stability like he had never felt before. After his stay at A New Leaf's East Valley Men's Center, Nick transferred to Mesa House where he lives onsite to attend 12-step meetings and classes.
Before Nick came to A New Leaf's East Valley Men's Center, he had never been treated with the compassion, patience, and genuine care that he needed to truly face his mental health and addiction challenges. The East Valley Men's Center helped Nick learn to invest in himself, giving him the support he needed to obtain the services necessary to stay sober, stable, and independent. A New Leaf committed to Nick's sobriety and stability the day he walked through the front door, even if Nick hadn't yet. We are privileged to have helped Nick on his journey to overcome addiction and depression.