Your support has saved hundreds of lives this summer. With one of the most extreme stretches of heat in our state's history, families living on the streets have endured dangerous conditions. It is more important than ever that safe shelter is available for children and their parents. Thanks to you, A New Leaf is one step closer to ensuring any family can overcome homelessness. 
Because of people like you, A New Leaf opened a brand new homeless shelter for families in the Valley! That's right, together we opened a family homeless shelter in the City of Surprise, with seven apartment style units for families and new mothers. This will transform how the West Valley helps families who fall on hard times or need immediate housing. 
This enormous milestone was only made possible because of the combined efforts of hundreds of donors, volunteers, and community members like you! In light of this amazing achievement, we wanted to share the story of a new mother who came to A New Leaf's La Mesita Family Homeless Shelter. Micah's family is a great example of the people you help to overcome homelessness. 
And we aren't slowing down this year, there is much more planned! See more about incredible work being done in your community, and how you can play a bigger role, by reading this month's newsletter. You should especially see the With One Voice luncheon we have planned for the end of September! You won't want to miss it.
So thank you, very much. Together, we have achieved incredible things, and helped thousands of people. Putting this much good energy into the world isn't always easy to do, but with you in our corner we know we can get it done.

Joe Dulin
Chief Philanthropy Officer
A New Leaf
Click Below to See Exciting News!
HOW YOU GAVE SHELTER TO MICAH AND HER SON
VOLUNTEER UPDATES AND OPPORTUNITIES
DONATION CENTER UPDATES AND URGENT NEEDS
HOW YOUR USED CAR CAN BE USED FOR GOOD
COMMUNITY PARTNER NEWS: PHOENIX SUNS CHARITIES
EVENT NEWS: WITH ONE VOICE 2023 LUNCHEON UPDATE
August 2023 Impact News: You gave Micah a home when she needed it most!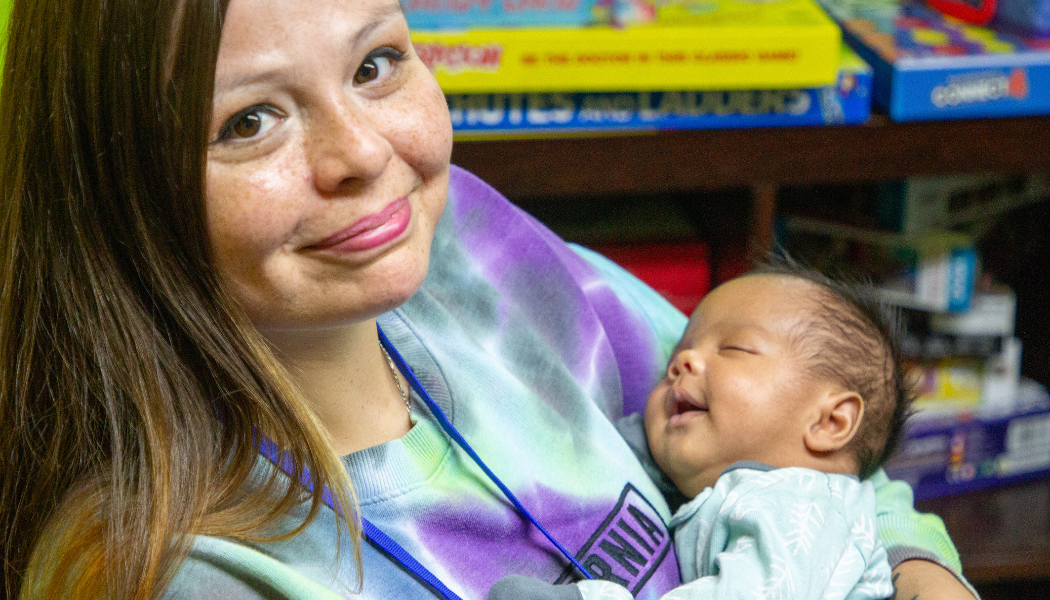 Micah became homeless with her newborn baby and needed a safe home. Thanks to supporters like you, Micah and her son Cyrus found safe shelter at A New Leaf's La Mesita Family Homeless Shelter. Now, this small family is thriving.
Micah was a new mother and was in the process of turning her life around when a crisis struck. She had just achieved a year of sobriety, a huge milestone in her life, and was living full-time in a sober living home. But when the home suddenly closed, she and her son were left with nowhere to go.
"I was horrified as a mother. I mean I thought I had done everything right and was living in a safe environment where I could focus on my son and my sobriety. Then I come home one day and the doors just shut, no notice or anything? I just had no idea what I was going to do."
On her own to find a new home, Micah was terrified. She had some savings, but not enough to get an apartment yet. She had just finished paying her medical bills from having her son and was barely making ends meet already. She decided she needed somewhere temporary and booked the cheapest motel she could find in the area.
"I could barely afford it, and the motel wasn't in a good area. Definitely not a place I would want to bring my baby, but I didn't have a choice. I knew my money was going to run out fast in a hotel and I needed somewhere to go to get back on my feet."
Desperately calling around for help, Micah was finally connected with A New Leaf. Her son Cyrus was only a few weeks old, so Micah was placed on a top priority list for a family shelter unit. Within a few hours, Micah was able to move into her own private, apartment style unit with A New Leaf.
"It was such a huge relief to have a safe place for my son. And the staff have just been amazing, they really wrapped around us and gave us all the support we needed. I was able to get childcare for my son, and now I got a job at a call center. It's not the best job in the world, but it's what I need to do right now to save for an apartment, so I'm doing it."
With two months left during her stay at the shelter, Micah is entirely focused on her future and what she wants for her son. She is planning with her case worker on how to find better work, where she can find affordable housing when she exits, and more. After so much uncertainty, she just wants a brighter future for her family more than anything else.
"Terrible things happen sometimes, but when someone reaches out and gives you a chance… you need to make the most of it. So Cyrus and I are making the most of this. And I have to say, A New Leaf really did give us a chance to start over. It's given me hope that I can build a strong and stable home for my son so that this never happens again."
Tanner Swanson
Communications Manager
A New Leaf
August 2023 Volunteer News: Interns and volunteers are making a difference!
Jacey Ibarra (far left) interned with A New Leaf in the domestic violence services division. After a successful internship, Jacey joined the organization as a full-time employee!
A New Leaf has welcomed over 20 employees that were previously interns and volunteers since the 2020. These individuals become great employees due to their chance to build relationships with staff and become connected to the program and mission they support. One such notable individual who went from intern to employee is Jacey Ibarra.
Jacey is an NAU student currently pursuing her Master's in Social Work and initially found A New Leaf through a friend at ASU. On her hunt for an internship opportunity, Ibarra said, "I was initially unimpressed with the options provided. However, a friend from Arizona State University was able to send me a more extensive list of internships." This included A New Leaf, and when she noticed that we had programs located throughout the Valley, she knew she had to explore this more.
"My internship experience has undoubtedly prepared me for my current employment at A New Leaf. The tasks, situations, and experiences I encountered during my internship align perfectly with my role as an employee," said Ibarra. Originally the Domestic Violence Intern, she is now a Shelter Advocate for one of A New Leaf's domestic violence shelters.
"I'm thrilled with this change and enjoy supporting people in need," Ibarra continued. "Overall, the transition from intern to employee has been seamless, and I've enjoyed my time at A New Leaf. I hope to continue working here for a long time."
Ongoing Volunteer Opportunities
If you are interested in helping your local community, get involved today! You can start by applying to our urgently needs volunteer opportunities, we are currently recruiting for the following ongoing roles:
• Front Desk Support at shelters and offices
•  Lead Donation Center Volunteers
•  Shelter Support Volunteers
•  Administrative Volunteers
•  Project and Events Chair
A New Leaf welcomes anyone interested in serving their community
to join us at one of our many program locations across the Valley. As a volunteer you will be making a direct impact in the lives of families and individuals in crisis. Please submit an application through our website or email us at
Volunteer@turnanewleaf.org
.
Raven Jordan Yosick
Volunteer Program Supervisor
A New Leaf
August 2023 Donation Center News: Back to School Season Ends, and Shelf-Stable Food is Needed!
A Heartfelt Shoutout to Mark Cunningham, IBEW Local Union 769, and Labor's Community Services Agency (LCSA) for donating 100 backpacks filled with school supplies! We are absolutely thrilled to recognize the incredible generosity of the entire team at International Brotherhood of Electrical Workers Local 769 for their outstanding contribution to A New Leaf's Back-to-School Drive!
The backpacks will be distributed to children at A New Leaf's Phoenix Day preschool, ensuring every child has the essential tools to succeed academically and embrace the upcoming school year with confidence and enthusiasm. Join us in giving a round of applause to Mark Cunningham and IBEW Local 769! Their support is transforming lives and nurturing hope in the hearts of our community's young learners.
With a surge of families fleeing from domestic violence, canned and microwaveable food is urgently needed. A New Leaf relies on community members like you to help feed thousands of people every year in shelters across the Valley!
Your support makes sure that everyone facing a crisis in our community can come to A New Leaf for a warm meal, and a roof over their head! Sometimes though, we run low on some very important supplies and need a little bit of extra help. This month, our staff have seen a shortage of shelf-stable foods and basic household goods like:
Microwaveable food items
Standard size bed pillows
Manual can openers
Men's deodorant
Twin size sheets
Cereal, rice, and pasta
You can provide for a family in dire need of basic assistance. These families are in need of safety, food, clothing, and other basic necessities. The summer heat has stressed our community, and pushed even more people to the brink of homelessness. By donating urgently needed items, you have the power to help vulnerable households facing crises. Make a donation today and change a life!
Sharma Glenn
Donation Center & Contributions Supervisor
A New Leaf
August 2023 Donor News:
Your used car can be donated to charity!
 Is your old car (truck, boat, RV, or motorcycle) giving you the summertime blues? We can help!
Getting those summertime blues from that old car taking up space in your driveway? Did your repair shop tell you there ain't no cure? Well, now there is! You can donate your used vehicle to A New Leaf and get a tax deduction at the same time. Best of all, pickup and tow away is provided at no cost!
Whether it's a car, truck, boat, RV, or motorcycle, A New Leaf's vehicle donation program provides free pick-up for all types of vehicle donations. As long as it's in one piece, tow truck accessible, and has a clear title, you can donate your vehicle to A New Leaf where you know it will make a difference. 
1.  Call (855) 550-4483 or complete the online donation form at www.careasy.org/nonprofit/ANewLeaf. Our vehicle donation support team is available seven days a week and will be happy to answer your questions.
2.  Schedule your free pick-up: A licensed tow company will pick up your vehicle at a time convenient for you. It will be taken to one of our many sale locations where it will be sold—all at no cost to you.
3. A New Leaf receives the funds, and your gift may qualify for a tax deduction! Vehicle donations are tax-deductible, and we work to get the highest return per vehicle for the benefit of our clients and for your tax benefit. You will be mailed a thank-you letter within 30 days of the sale of the vehicle, which also serves as a donation tax receipt.
Brad Harris
Senior Director of Estate and Gift Planning
A New Leaf
August 2023 Community Partner News: Phoenix Suns Charities
A New Leaf and Phoenix Suns Charities have been transforming lives across the Valley for over 17 Years! Our engagement with the Phoenix Suns goes back even further, to the 1990's and 1980's. This amazing team and their charitable organization have done incredible work.
At A New Leaf, we are proud to celebrate our longstanding partnership with Phoenix Suns Charities. For over 17 years, they have provided unwavering support for their local community through A New Leaf. With a shared commitment to enhancing the lives of children in need throughout Arizona, Phoenix Suns Charities has been a key partner in helping to serve families affected by homelessness and domestic violence.
To date, Phoenix Suns Charities has contributed nearly $250,000 to A New Leaf. This substantial financial support has been instrumental in driving our programs and services, allowing us to reach out to more children and families in crisis. The generosity of Phoenix Suns Charities has expanded A New Leaf's outreach and created a lasting impact on the lives of those who need it the most.
One of the most recent and significant contributions from Phoenix Suns Charities has been towards supporting after-school programming and children's services at A New Leaf. This particular initiative holds great importance as it provides essential childcare, tutoring support, and various other resources for children in need. By investing in these children's education and well-being, we are fostering an environment that promotes healing, growth, and stability during challenging times.
The partnership between A New Leaf and Phoenix Suns Charities goes far beyond financial contributions. The Phoenix Suns organization has a rich tradition of giving back to the community, and their dedication to volunteering and serving through A New Leaf for decades is a testament to their commitment. Through their active involvement, the Phoenix Suns have become strong advocates for positive change, inspiring others to join in creating a stronger, more united community.
At A New Leaf, we firmly believe that collaboration is the key to achieving lasting impact. Phoenix Suns Charities is a perfect example of what a true community partnership looks like. Their kindness, volunteerism, and financial contributions have transformed the lives of countless children and families across Arizona.
A New Leaf is grateful to Phoenix Suns Charities and is dedicated to working with community partners to help children experiencing homelessness, domestic violence, and poverty. For more information on how to get involved, please contact Laura Bode, Director of Community Engagement, by clicking below:
Laura Bode
Director of Community Engagement
A New Leaf
August 2023 Event News: With One Voice Luncheon!
A New Leaf's 2023 With One Voice Luncheon will bring together passionate people like you to help end domestic violence in Maricopa County!
A New Leaf is delighted to announce the date of our second annual With One Voice Luncheon. This incredible event will support local domestic violence shelters across the Valley, giving safety to over 4,000 survivors fleeing abuse a year. Attendees will be treated to a powerful speech by an A-list domestic violence advocate, a gourmet lunch, and "just a few" cocktails.
While this event will certainly be a fun one, make no mistake: this is about saving lives. Over 100 people lost their lives in 2022 due to domestic violence in Arizona. We must take action to end this wave of heart-breaking violence in households all over the Valley. No child deserves to see or experience domestic violence of any kind. No person should ever be subjected to abuse. If you believe in these statements please see the event details below and consider attending:
Friday, September 29, 2023
11:00 AM – 3:00 PM
Program starts at 12:00pm
El Chorro
5550 E Lincoln Dr
Paradise Valley, AZ 85253
$150 Registration
Includes entry, appetizers, drinks, and meal
Keynote Speaker Announced: Casey Gwinn
We are excited to announce our keynote speaker at With One Voice 2023 as Casey Gwinn, President of Alliance for HOPE International.  He is the visionary behind the Family Justice Center Movement, first proposing the concept of the Family Justice Center model in 1989. Casey founded Camp HOPE America in 2003. He is also a national expert on domestic violence dynamics, including investigation and prosecution, the handling of non-fatal strangulation cases, and is one of the leading thinkers in the country on the science of hope.
A New Leaf invites passionate community members like you to join together as we speak out with one voice against domestic violence in our local community. You have the power to make a clear statement through your attendance: that no one should ever have to live in fear of abuse.
Tanner Swanson
Communications Manager
A New Leaf