Your support has changed thousands of lives so far in 2023, and you should feel an incredible sense of accomplishment. Together, we have worked to help house families and children in need across the Valley. This is an achievement that should not be overlooked as we continue to work on ending homelessness and domestic violence in the Valley.
One of the most pressing concerns we face right now is the growing number of homeless families in our community. These families are facing eviction, forced to live in their cars, and even worse, on the streets with young children.  It's a heart breaking reality that A New Leaf is helping to address, thanks to the support of people like you.
The cost of living and rent have exploded for working parents. As a result, many families are struggling to make ends meet, facing impossible choices between paying rent, putting food on the table, or providing for their children's basic needs. These families are not just statistics, they are real people who are experiencing extreme hardships.
Like you, we believe that every family deserves a safe and stable place to call home. We are committed to doing everything we can to make that a reality. However, A New Leaf cannot do this work alone. We depend on your support to make a difference in the lives of those we serve. Your support allows us to continue providing critical resources such as emergency shelter, job training, mental health counseling, and other services.
Your donations, volunteer time, and so much more make directly provide support to families facing homelessness in our local community. No amount is too small, and every donation makes a difference. Thank you for always caring enough to help. 

Joe Dulin
Chief Philanthropy Officer
A New Leaf
Click Below to See Exciting News!
HOW YOU HELPED REUNITE KIRA'S FAMILY
VOLUNTEER UPDATES AND OPPORTUNITIES
DONATION CENTER UPDATES AND URGENT NEEDS
LIFE INSURANCE CAN ACTUALLY CHANGE LIVES
COMMUNITY PARTNER NEWS: SANTANDER CONSUMER USA
EVENT NEWS: WITH ONE VOICE 2023 LUNCHEON
July 2023 Impact News: How you reunited Kira's family!
Kira lost custody of her three children as she struggled with addiction. When this happened, she resolved to turn her life around – but she needed help to make that happen. Supporters like you gave Kira the resources she needed to get sober, get her kids back, and provide for her family. You helped reunite this family forever.
On November 13th of 2018, Kira had her three young children taken away from her custody by Child Protective Services due to her drug addiction. That night, she lost her three week old daughter, her three year old son, and her five year old son.  It's a situation that no mother can even begin to imagine, and the final moment that made Kira want to turn her life around. 
"I was homeless, alone, and just wanted my kids back so desperately. Losing them was devastating, and right then I decided to change. I knew that if I was going to rebuild my family, I needed to get clean, get an apartment, and focus on being present for my children." 
Over the next two years, Kira worked on herself so that she could be the mother her children needed. She attended every court hearing, participated in therapy with her children, and went through drug counseling. Kira also started looking for affordable housing, since she would soon need to provide for her three children as a single parent.
"That's when I got connected with A New Leaf and learned that they would help me get a two bedroom apartment for me and my kids. When I heard that, the weight of the world just lifted off of my shoulders. I knew the court expected me to have a proper home for my kids, and this would make that possible." 
In November of 2020, Kira welcomed her oldest son back into her home at A New Leaf's La Mesita Apartments. A few months later in 2021, her other son came home. Finally, in 2022, Kira's daughter was placed back into her custody. It took 4 years, but her family was finally whole again. Now she is thinking about their future and how she can be the best mother possible for them.
"I want my children to have a good education. I want my children to be happy. I want them to have a mom that is present because I wasn't present before. They deserve somebody that's there and that's consistent, and that shows them love and shows them respect, and makes sure that they're happy and that they have everything that they need. Thanks to A New Leaf, I've been able to do that for them."
Kira is now enrolled in college and is pursuing a master's degree. Her children are thriving in school and attend A New Leaf's after school program. For the first time in a long time, Kira feels confident about what she has achieved and where her life is heading. 
Thanks to supporters like you, Kira was able to completely turn her life around, get back custody of her children, and work towards a brighter future. You have empowered Kira to take control of her destiny and provide for her family. You have truly changed her life forever, and given Kira a belief in herself.
"I feel proud of where I am now. Three and a half years is a long time to fight for custody of my children. And there were plenty of times where I wanted to give up. But the help I got from A New Leaf made me feel like it was possible. I finally have the life I want, and I get to share it with my children – I have A New Leaf and people like you to thank for that."
Tanner Swanson
Communications Manager
A New Leaf
July 2023 Volunteer News: Volunteer opportunities available!
Shelters across the Valley are in desperate need of volunteer groups to donate and prepare meals. Groups may either cook their meals onsite, or affordably cater in food from a local grocery store or restaurant. Options are flexible!
Make a difference in your community by donating your time and skills as a volunteer or volunteer leader! A New Leaf offers a wide range of volunteer opportunities across the valley to support their important work and assist your neighbors in need. We count on people like you to step up and help solve some of our community's most pressing challenges. 
By joining as a volunteer, you will have the chance to collaborate with dedicated program staff and fellow volunteers. You will be on a powerful team of change-makers who all strive to make a positive and meaningful impact in the Valley. We hope you take this opportunity to contribute and bring about positive change in your local community.
Ongoing Volunteer Opportunities
If you are interested in helping your local community, get involved today! You can start by applying to our urgently needs volunteer opportunities, we are currently recruiting for the following ongoing roles:
• Front Desk Support at shelters and offices
•  Lead Donation Center Volunteers
•  Shelter Support Volunteers
•  Administrative Volunteers
•  Project and Events Chair
A New Leaf welcomes anyone interested in serving their community to join us at one of our many program locations across the Valley. As a volunteer you will be making a direct impact in the lives of families and individuals in crisis. Please submit an application through our website or email us at Volunteer@turnanewleaf.org.
Raven Jordan Yosick
Volunteer Program Supervisor
A New Leaf
July 2023 Donation Center News: Will you help feed a family facing homelessness?
Candi Davis and her church stake worked together to collect and donate hundreds of pairs of converse shoes for children experiencing homelessness in the Valley.
From an early age, Candi's faith led her to believe that service to those around her was meant to be a deeply meaningful part of life. This call to service, to be a beacon of support and kindness, resonated deeply with Candi. She had always wanted to be the kind of person who extended a helping hand when others were in need.
When the service group of women in the Citrus Heights Stake decided to engage in a community service project, Candi was among the dedicated individuals ready to make a difference. The group reached out to A New Leaf, hoping to help families recovering from homelessness, domestic violence, and other heartbreaking challenges. 
Candi and other members of the group focused their efforts on providing brand new Converse shoes for the children living in shelters at A New Leaf. The choice was heartfelt: as mothers, they wanted to give these children something special, a pair of shoes that they could wear with pride. Candi herself donated and worked to get other people involved.
The results exceeded expectations. With a goal of providing just 50 pairs of shoes, the women gathered an extraordinary 275 pairs for children in need. At the celebratory luncheon for this donation drive, a table overflowed with boxes of Converse shoes, a physical manifestation of the community's compassion and generosity.
Donations from kind people like you help ensure everyone in A New Leaf's shelters get fed and have a bed to sleep on! Sometimes though, we run low on some very important supplies and need and need a little bit of extra help. This month, our staff have seen a shortage of shelf-stable foods and basic household goods like pillows, sheets, and hygiene products:
Microwaveable food items
Standard size bed pillows
Manual can openers
Men's deodorant
Twin size sheets
Kitchen hand towels
Cereal, rice, and pasta
Every day there are more and more families in dire need of basic assistance from A New Leaf. They are in need of safety, food, clothing, and other basic necessities. Homelessness is affecting more communities than ever, but your kindness can have a significant impact. By donating urgently needed items, you have the power to help vulnerable households facing crises. Don't hesitate, take action now to make a difference.
Sharma Glenn
Donation Center & Contributions Supervisor
A New Leaf
July 2023 Donor News:
Use your life insurance for good!
Do You Get Life Insurance Through Your Job?
We know you care a lot about making the world a better place. You volunteer, donate, and work hard on behalf of causes you believe in. But did you know you can also use your workplace insurance policy to help out a charity you love? It's true! It can be a smart and generous way to make a difference. And It's Easy To Do! 
The easiest and most flexible way to give your workplace insurance policy is to name the charity as the beneficiary of your policy, either by itself or with other beneficiaries. You will still own and control your policy and can change your mind at any time. The good thing about this option is that it doesn't cost you anything or involve any paperwork.  It really is an easy and very cost-effective way to make a great impact.
If you have a passion for your community, please consider making A New Leaf a beneficiary from your workplace life insurance policy and leave a legacy for those in need. Reach out to Suzanne Percy, CFRE, Charitable Giving Advisor in A New Leaf's Philanthropy Department by phone at (480) 708-1358, email at spercy@turnanewleaf.org for more information.
Suzanne Percy
Charitable Giving Advisor
A New Leaf
July 2023 Community Partner News: Santander Consumer USA Foundation
Santander USA employees have become involved in nearly a dozen of A New Leaf's programs. From serving meals at shelters, to collecting donations of clothing, to making generous financial contributions, Santander USA is a key partner to A New Leaf!
Few partners are as dedicated to making a real difference in the Valley as Santander Consumer USA. This exceptional company has provided invaluable support to A New Leaf, making a significant difference in the lives of individuals and families facing adversity. Amidst the numerous challenges currently affecting the Phoenix community, Santander's dedication has truly been a beacon of hope and compassion.
Santander's employees have demonstrated incredible generosity by volunteering their time to prepare meals in shelters, providing nourishment and comfort to those in need. They have also organized clothing donation drives, ensuring that vulnerable individuals have access to essential items for warmth and dignity. The company has demonstrated a willingness to lead in the community from a grassroots level, all the way to board room. 
Several of A New Leaf's programs offer permanent supportive housing for community members living with a serious mental illness, including the La Mesita Community.
Over the course of the past three years, Santander Consumer USA has demonstrated their commitment through substantial donation to A New Leaf, totaling an impressive amount of nearly $500,000. This remarkable support has played a transformative role in expanding programs and services, allowing A New Leaf to reach an even greater number of individuals and families who are experiencing challenging circumstances. Santander's generosity has empowered our community, providing essential resources and support systems that promote stability and resilience.
In addition to their substantial financial contributions, Santander has taken an active role in promoting financial empowerment within our community. By sponsoring A New Leaf's BankWork$ program, they have equipped individuals with the necessary skills and resources to pursue employment opportunities within the financial services sector. Furthermore, their sponsorship of the Assets to Opportunity Program has provided invaluable financial literacy tools and matched savings support for low-income households, enabling program participants to overcome financial obstacles and achieve their goals.
As the Valley continues to grapple with numerous challenges, Santander Consumer USA's steadfast support becomes increasingly important. Their partnership and dedication have become a source of strength, offering hope and opportunities to those in need. We extend our sincere gratitude to Santander for their unwavering commitment to the mission of A New Leaf. Together, we strive to build a stronger and more resilient community that thrives even in the face of adversity.
A New Leaf is grateful for Santander Consumer USA's remarkable support. For more information about partnering with A New Leaf, please contact Laura Bode, Director of Community Engagement. Click below to get in touch with Laura today:
Laura Bode
Director of Community Engagement
A New Leaf
July 2023 Event News: With One Voice Luncheon!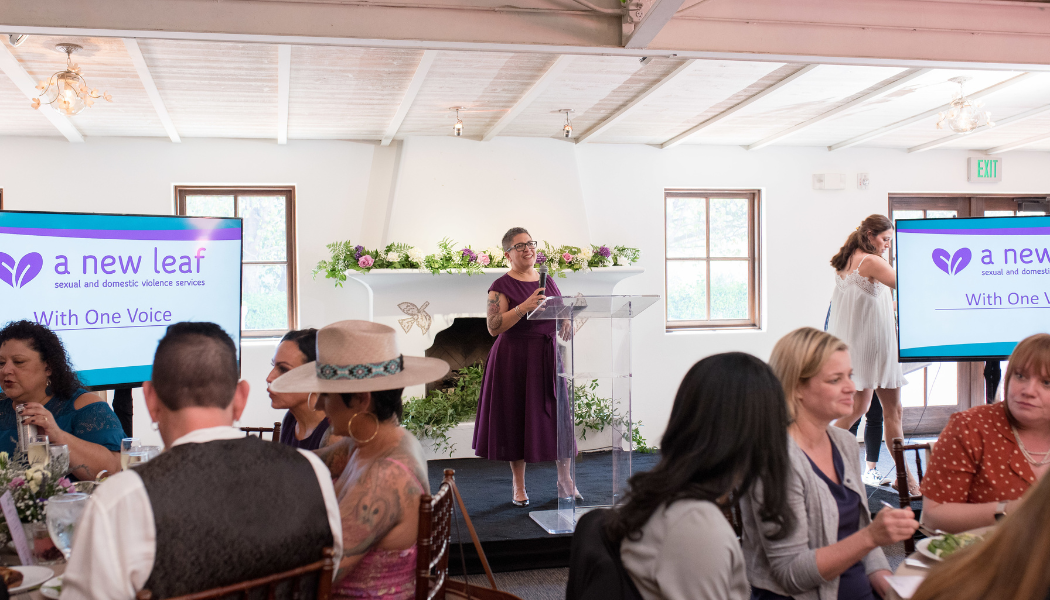 A New Leaf's 2023 With One Voice Luncheon will bring together passionate people like you to help end domestic violence in Maricopa County!
A New Leaf is delighted to announce the date of our second annual With One Voice Luncheon. This incredible event will support local domestic violence shelters across the Valley, giving safety to over 4,000 survivors fleeing abuse a year. Attendees will be treated to a powerful speech by an A-list domestic violence advocate, a gourmet lunch, and "just a few" cocktails. 
While this event will certainly be a fun one, make no mistake: this is about saving lives. Over 100 people lost their lives in 2022 due to domestic violence in Arizona. We must take action to end this wave of heart-breaking violence in households all over the Valley. No child deserves to see or experience domestic violence of any kind. No person should ever be subjected to abuse. If you believe in these statements please see the event details below and consider attending:
Friday, September 29, 2023
11:00 AM – 3:00 PM
Program starts at 12:00pm
El Chorro
5550 E Lincoln Dr
Paradise Valley, AZ 85253
$150 Registration
Includes entry, appetizers, drinks, and meal
A New Leaf invites passionate community members like you to join together as we speak out with one voice against domestic violence in our local community. You have the power to make a clear statement through your attendance: that no one should ever have to live in fear of abuse.
Tanner Swanson
Communications Manager
A New Leaf