Chris Miner: Board Member, Donor and Optimist
Posted on 07/29/2015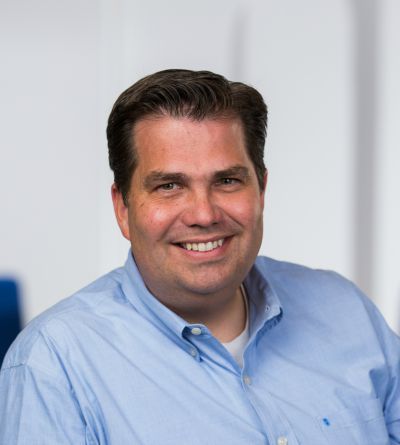 Chris Miner is an optimist – and his positive outlook is changing lives at A New Leaf.
As a newly elected Board member and donor, Chris is bringing a compassionate "can-do" energy to the organization.
"Sometimes we demonize people in a bad situation," says Chris. "In reality, most of us are two paychecks away from crisis. You don't plan to be homeless or hungry; it happens, and you have to rely on the generosity of others. But with hard work, you can always find a way to succeed."
Chris says he appreciates A New Leaf's mission of helping people with a new start. As General Counsel of Mobile Mini, Chris strives to bring business discipline to his volunteer work, balanced with a human touch. He says he is grateful for his mother, who was a single mom, struggling to pay the bills and raise her children. She has been his inspiration. "We were living in a trailer, eating peanut butter for our dinner, but my mom decided to go back to school to be a better provider for her kids. She was working and going to school and caring for the family – very difficult, but she succeeded through her determination."
Chris was introduced to A New Leaf through his son's Eagle Scout project when they were looking for an organization to support. "A New Leaf is a wonderful organization and I am so impressed by the many services provided to the community," he says. "My family and I have been interested to help those struggling to get back on their feet, particularly with food and housing."
Chris and his family moved to Phoenix eleven years ago. He and his wife have three children, including an adopted child, "a newborn out of chaos." Their adopted child has brought the family closer, Chris feels. He is grateful for his family and for the blessings of giving back.
"I remember the feelings of uncertainty when I was young," he says. "But now I can make a difference."
Chris continues, "We all have ways to give back. Being creative, sharing time, getting involved in local issues is important. No matter our situation, we can give back and help improve the lives of others."
Chris says he wants to keep volunteering for A New Leaf. "It is a privilege to be involved on the Board and as a donor. My family is passionate about this work, so I want to be involved as long as I can."
You, too, can volunteer for A New Leaf. If you are interested in volunteering, please call 480-464-4648 or go to www.TurnaNewLeaf.org.