Affordable Housing Services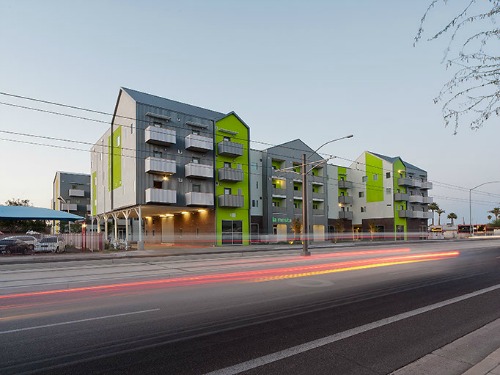 La Mesita Apartments
A New Leaf's La Mesita Apartments, located in Mesa, opened in March, 2014.  The campus provides 80 units of affordable housing with 30 units reserved for families and individuals who are chronically homeless or homeless with special needs. Studio and one-to-four bedroom units are available for those who qualify.
Integrated Services
La Mesita Apartments' affordable housing units serve low-income families and individuals while offering supportive services, which may include assistance with basic needs, workforce development, education and financial coaching and literacy, a variety of classes and community building activities.
Support services include case management activities that support housing stability, which may include goal setting, skill building, community coordination, referrals and advocacy. Additional onsite services include a computer lab that is an Arizona at Work Access Point, a Health and Wellness Center, After School Center, training room and a Maricopa County Head Start Program.
La Mesita Apartments have the LEED (Leadership in Energy & Environmental Design) for Homes Platinum certification, a green building certification program that incorporates best practices in sustainable initiatives. Among the many sustainable features, La Mesita Apartments offers close proximity to public transit (light rail), promotion of water conservation, high efficiency plumbing fixtures, appliances and HVAC. For more information about LEED visit www.usgbc.org/leed/rating-systems/homes.

For placement, please call 480-969-5233.  
Rapid Re-Housing Program 
The foundation of A New Leaf's Rapid Re-Housing Program is Housing First, providing the homeless with stable housing initially followed by any requisite services. The immediate and primary focus is to help individuals and families access and sustain permanent housing. By providing short term rental assistance, case management and supportive services to individuals and  families, we can significantly reduce the time people experience homelessness and prevent further episodes. Rapid Re-Housing Services are designed to flexibly meet the needs of individuals and families to ensure housing stability and self-sufficiency in the future.
To find placement, please call 480-733-3042.