Donation Drives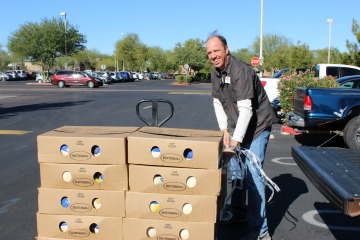 Donation Drives are critical to A New Leaf shelters. They provide the most essential needs for the children, individuals and families residing in A New Leaf's programs.
Workplace Donation Drives
You can hold a donation drive at your office or in your business. The donations help the individuals and families in A New Leaf's programs start their journey to independence. You can collect any NEW item, from kitchenware, appliances, linens, non-perishable food, toiletries, and the list goes on. If you have questions or need help brainstorming ideas for promoting the donation drive, please call 480-464-4648.
Getting Started
Choose a drive below that works best for you:
Official Drives
Drop-Off Hours
Between 9:00 a.m. and 4:00 p.m. Monday through Friday
Locations
East Valley: A New Leaf Volunteer and Donation Center, 2245 W. Ella Street, Building A, Mesa, AZ 85201
West Valley: Riverboat Acres/Bingo, 18300 W. Bell Road, Surprise
Questions: Call A New Leaf's Philanthropy Office at 480-464-4648
THANK YOU - THANK YOU - THANK YOU