how you can help your community through in-kind donations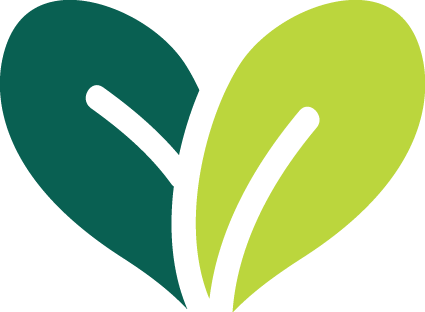 help those in crisis by donating items
You can make a direct impact in your local community by donating items such as food, household goods, and more. Every donation will go directly towards helping a family overcome homelessness, helping a survivor of abuse find safety, and so much more. A New Leaf relies on generous people like you to help feed, clothe, and support those most in need in your community.
A New Leaf is ONLY able to accept new and unused items. We cannot accept gently used or worn items. We work with local community organizations that do accept gently used goods, please find our list of partners here.
current needs: household & basic goods
Donating items is one of the most direct ways you can make an impact in the life of someone experiencing homelessness, domestic violence, or some other challenge. Will you consider donating an item or hosting a donation drive to help your neighbors in need? See more on current needs and how you can help below.
Families are in urgent need, so please contact Sharma Glenn, Donation Center & Contributions Supervisor at (480) 464-4648 or by email at sglenn@turnanewleaf.org. You can also fill out to form linked below to notify us about a donation you plan to make!
Please note we can only accept brand new and unopened items. If you need to donate used items, please see our listing of partners able to accept your items.
school supplies and storage
Backpacks for grades 6-12 (urgent need)
Single subject spiral notebooks
Composition books
Whiteboards
Dry erase markers
Expo dry erase white board cleaner
Adult scissors
Crayola markers fine line and broad line
Travel tissue packs
Travel hand sanitizer
Post-it notes
Sharpies
Manual pencil sharpeners
General purpose cleaning supplies (urgent need)
Manual can openers
Microwaveable foods
Shelf-stable foods
Paper plates/bowls (no styrofoam please)
Toilet paper
Paper towels
Kleenex
Mops
Swiffer sweeper
Brooms
Pots and Pans
Swiffer Wet Jet mop
laundry, linens, bed, & bath
Twin sheet sets (urgent need)
Pillows
Shower liners
Shower curtains
Kitchen hand towels
Laundry detergent pods
Powdered laundry detergent
Hand towels
Bath towels
Kitchen hand towels
Sunscreen (urgent need)
Razor handles for Gillette Mach3 Turb
Men's shaving cream
Shirts (children's 2T-16 )
Pants and shorts (children's 2T-16)
Sweat shirt jackets (children's and adult)
Underwear (men's)
Toothpaste
Women's deodorant
Men's shoes (size 9-12 1/2)
Boys shoes (size 10-5)
workplace donation drives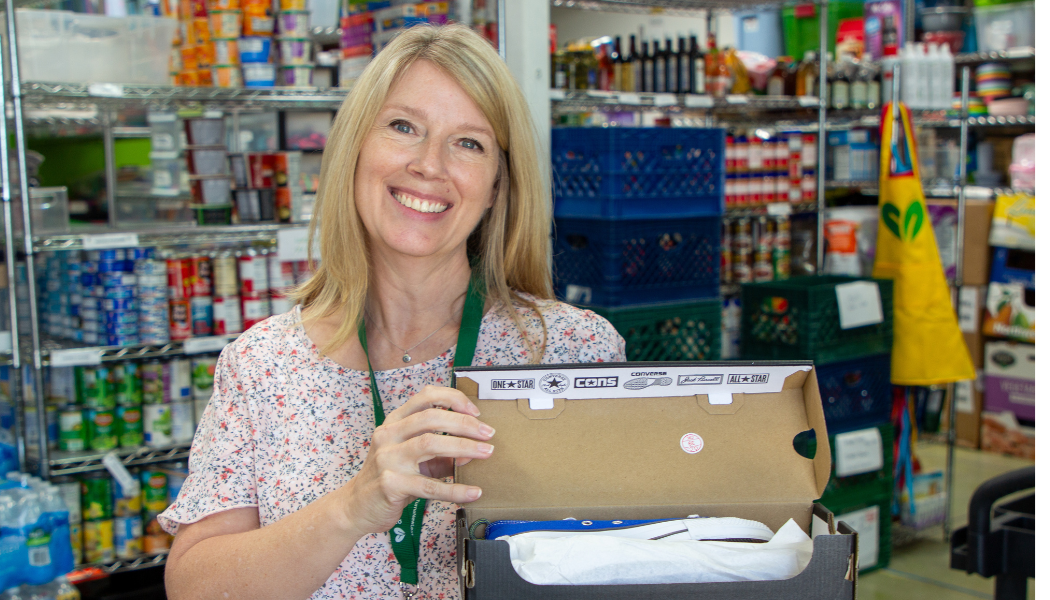 You can hold a donation drive at your office, place of business, or faith-based organization. The donations help the individuals and families in A New Leaf's programs start their journey to independence. If you have questions, need help brainstorming ideas, or help promoting the donation drive, contact Sharma Glenn at (480) 464-4648 or by email at sglenn@turnanewleaf.org.
Please note we can only accept brand new and unopened items.
Sharma Glenn
Donation Center & Contributions Supervisor
A New Leaf
january & february: household & basic needs
Twin sheet sets, towels, face cloths, pots, pans, dishes, small appliances, utensils, manual can openers, general purpose cleaning products, laundry/dish detergent, mops, brooms.
march & april: non-perishable food
Canned meats and tuna, canned soup, microwaveable foods (oatmeal, mac n cheese, rice, potatoes, etc.), ramen, boxed cereal, packaged dinners, individually-wrapped snacks, granola bars, baby food/snacks. Must not be expired. Non-family sized items preferred.
may & june: back to school
Backpacks, composition books, looseleaf paper, pencils, spiral notebooks, three-ring binders, paper, pencils, pens, highlighters, sharpies, dry erase markers, calculators, glue, scissors, post-it notes, crayons, two-pocket folders, hand sanitizer, travel tissues.
july, august, & september: hygiene & household paper goods
Diapers and wipes, full-size shower gel, shampoo, deodorant, men's shaving cream, razors, tooth paste, toothbrushes, feminine hygiene products, toilet paper, tissues, paper towels, paper plates and bowls (not syrofoam), napkins, plastic utensils.
october, november & december: holiday giving
Toys and games, holiday gifts, gift cards, socks, underwear, warm clothing, holiday food baskets (contact for details), gift wrap, scotch tape.
monday-thursday: 9am-4pm
friday: 9am-3pm
A New Leaf Donation Center
2245 W. Ella Street, Building A, Mesa, AZ 85201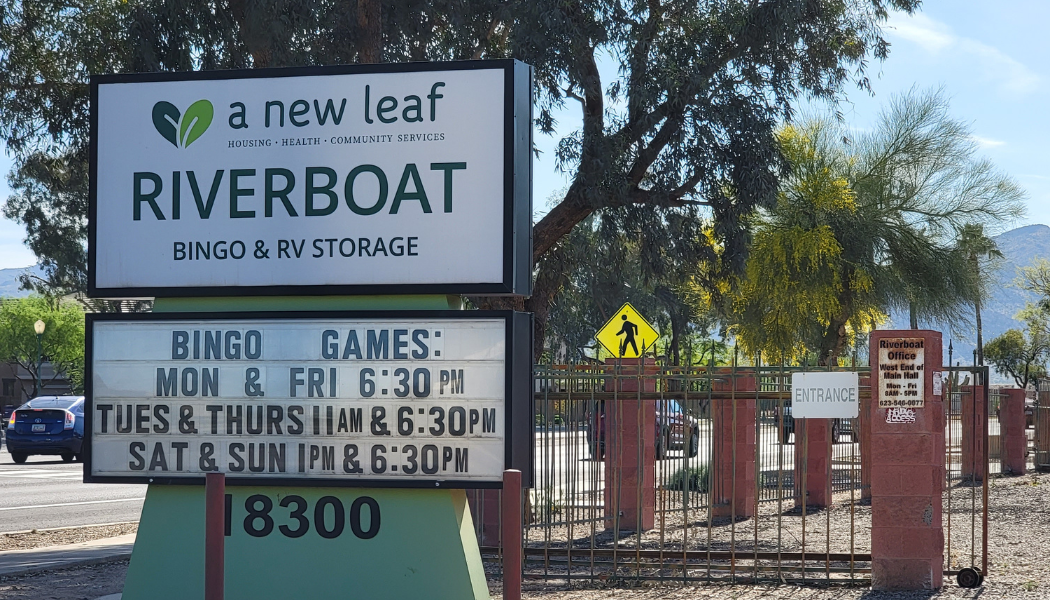 Riverboat Acres/Bingo
18300 W. Bell Road, Surprise, AZ 85374
Please note that if you plan to drop off a donation at the West Valley location, you MUST call in advance. When arrive to you drop off your donation, please go to the office on the West side of the Riverboat building. There is signage directing to the office, and you may knock or ring the bell.
A New Leaf is ONLY able to accept new and unused items. We cannot accept gently used or worn items under any circumstances. A New Leaf also reserves the right to not accept a donation for any reason, at the discretion of our staff. Thank you for understanding.