Donation Drives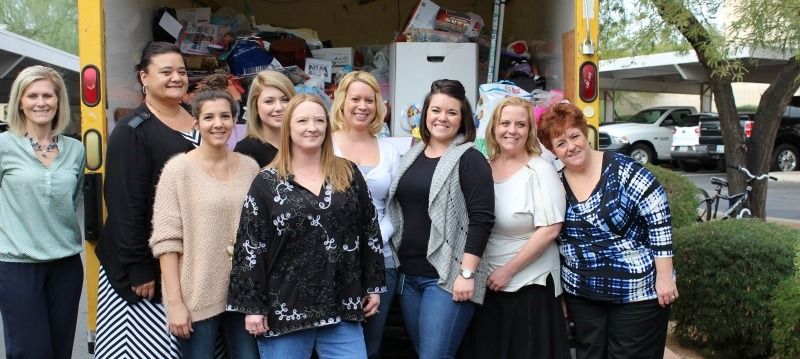 Donation Drives are critical to A New Leaf shelters. They provide the most essential needs for the children, individuals and families residing in A New Leaf's programs.
---
CURRENT DRIVE: COVID-19 Relief Support
---
With our community in crisis, many families and households are struggling to put food on the table. With shortages across the country for hygiene goods, cleaning supplies, and shelf-stable food - we are more in need than ever. A New Leaf relies on the generosity of our community to meet these growing needs.
Families are in urgent need, so please call us today to arrange for your donation. Our Donation Center phone number is 480-464-4648.  
Hygiene Goods

-Toilet Paper
-Paper towels
-Tissues (Kleenex)
-Baby/Flushable/Feminine Wipes
-Hand Sanitizer (travel/ full size/refill)
-Antibacterial Wet Wipes – Alcohol Free

Cleaning Supplies

-Bleach
-Spray Disinfectant (Lysol)
-Disinfecting Wipes
-Dish Soap
-Mops
-Brooms
-Empty Spray Bottles (for cleaning solutions)
-Empty Pump Bottles (for hand soap/sanitizer)

Personal Protective Equipment

-Disposable Gloves (Latex & non-latex)
-Disposable Masks
-Cloth Masks
-Respirator Masks
-Forehead/No-touch thermometers

Children's Activities

-Art/Craft Kits
-Drawing Pads/Paper
-Construction Paper
-Coloring Books (Kid/Adult)
-Card Games
-Sudoku/Word Search
-Activity Books
-Small Toys
---
Workplace Donation Drives
---
You can hold a donation drive at your office or in your business. The donations help the individuals and families in A New Leaf's programs start their journey to independence. You can collect any NEW item, from kitchenware, appliances, linens, non-perishable food, toiletries, and the list goes on. If you have questions or need help brainstorming ideas for promoting the donation drive, please call 480-464-4648.
---
We Accept NEW Items
---
A New Leaf's policy is to accept and distribute new items through our Donation Center. We do not accept gently used or worn items. We work with community partners and organizations that do accept gently used goods, and we are happy to refer you to them. Just call us at 480-464-4648.  
---
Official Drives
---
---
Drop-Off Hours
---
Between 9:00 a.m. and 4:00 p.m. Monday through Friday
---
Locations
---
East Valley: A New Leaf Volunteer and Donation Center, 2245 W. Ella Street, Building A, Mesa, AZ 85201
West Valley: Riverboat Acres/Bingo, 18300 W. Bell Road, Surprise
Questions: Call A New Leaf's Philanthropy Office at 480-464-4648